THE CRISIS IS A NATURAL PART OF ECONOMIC DEVELOPMENT, IT IS NECESSARY TO LEARN TO FACE IT
Keywords:
smart city, COVID, tourism, gross domestic product, municipality
Abstract
Europe has the strongest and largest tourism in the world. As in times of economic prosperity, the industry can prosper, in the case of a change in the economic environment as a result of a crises, it is hit hard and the tourism industry throughout the European Union is suffering billions of euros in damage. It is the case of all post-communist countries and also in Slovak Republic. The effects of such fluctuations are all the greater for the country´s GDP because they do not have contingency plans in place and solutions are often chaotic or implemented too late. The article assesses the impact of several crises, including the current one associated with COVID-19 and predicts a possible approach to mitigate the consequences of the crisis and at the same time better manage the future crisis.
References
DELLA CORTE, V., D'ANDREA, C., SAVASTANO, I., ZAMPARELLI, P. (2017). Smart cities and destination management: Impacts and opportunities for tourism competitiveness. European Journal of Tourism Research, 17, 7-27. ISSN: 1994-7658
EUROSTAT (2020). Tourism. [online] Europa.eu. Available at: https://ec.europa.eu/eurostat/web/tourism/data/main-tables [4 5. 2020].
KÓŇA. A., GUŤAN D., HORVÁTH. P.,(2020) Slovak Republic on the way to build Smart Cities based on KPIs with first Slovak Smart City Index. SciPap. Vol. 28. Issue 4.
KÓŇA, A. KÓŇA, J. 2020. Implementácia smart cities na Slovensku – potreba a východiskový stav. In : TRVALO UDRŽATEĽNÝ ROZVOJ V KRAJINÁCH EURÓPSKEJ ÚNIE II. ISBN 978-80-8152-855-2.
OECD (2010), OECD Tourism Trends and Policies 2010, OECD Publishing. ISBN: 978-92-64-07741-6
OECD (2012), OECD Tourism Trends and Policies 2012, OECD Publishing. http://dx.doi.org/10.1787/tour-2012-en
OECD (2020), OECD Tourism Trends and Policies 2020, OECD Publishing, Paris, https://doi.org/10.1787/6b47b985-en.
PERLES-RIBES, J.F., RAMÓN-RODRÍGUEZ, A.B., SEVILLA-JIMÉNEZ, M., RUBIA, A. (2016). The effects of economic crises on tourism success: An integrated model. Tourism Economics, 22(2), 417-447. ISSN: 1354-8166
WIDHIANTHINI. (2017). A dynamic model for sustainable tourism village planning based on local institutions. Journal of Regional and City Planning, 28(1), 1-15. ISSN: 2502-6429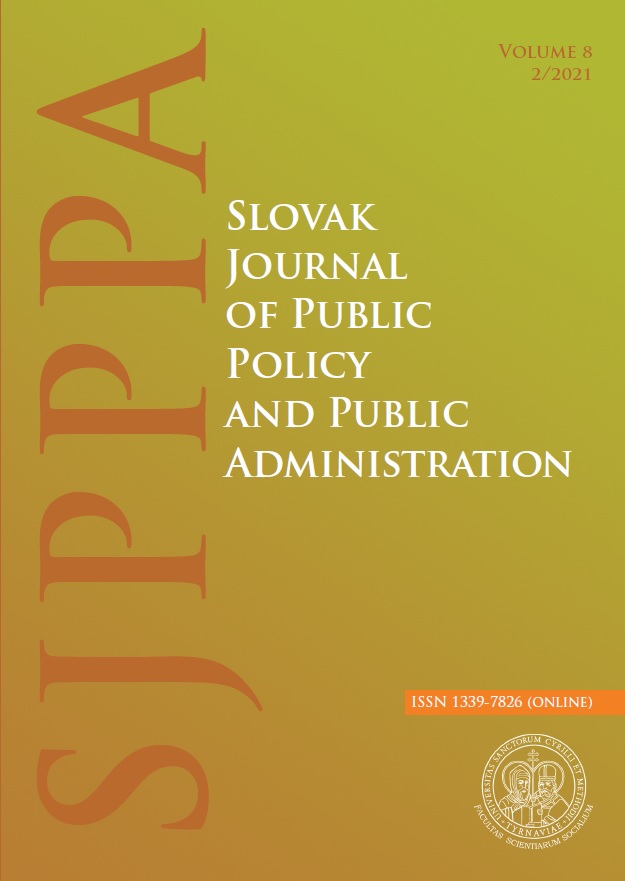 Downloads
How to Cite
Kóňa, A. (2021). THE CRISIS IS A NATURAL PART OF ECONOMIC DEVELOPMENT, IT IS NECESSARY TO LEARN TO FACE IT. Slovak Journal of Public Policy and Public Administration, 8(2). Retrieved from https://sjpppa.fsvucm.sk/index.php/journal/article/view/128